Shop
How to Get Out of The RUT Race BOOK
In his first book, How to Get Out of The RUT Race, Phil has put together a practical guide that provides readers with the tools to get out of a rut and achieve major life and business goals. This book will inspire you to take control of your life and your business, reconnect with your passion and achieve all your professional and personal goals.
20% of the proceeds from the sale of this book go to a Rotary charity.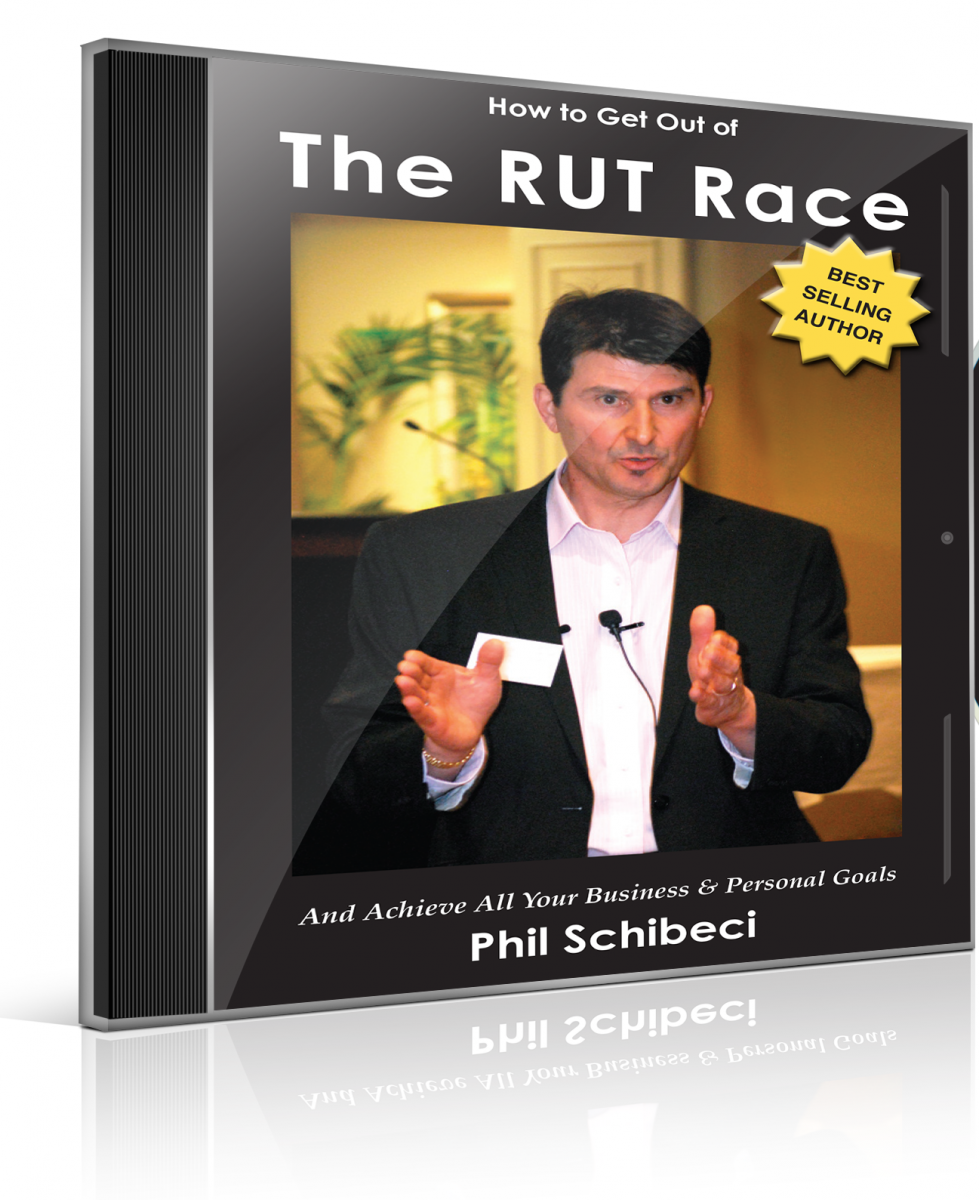 How to Get Out of The RUT Race MP3 CD AUDIO BOOK
This audio version of How to Get Out of The RUT Race is read by Phil himself.
This provides greater impact for the listener than if a professional reader was used.
Great to listen to while driving or doing household tasks.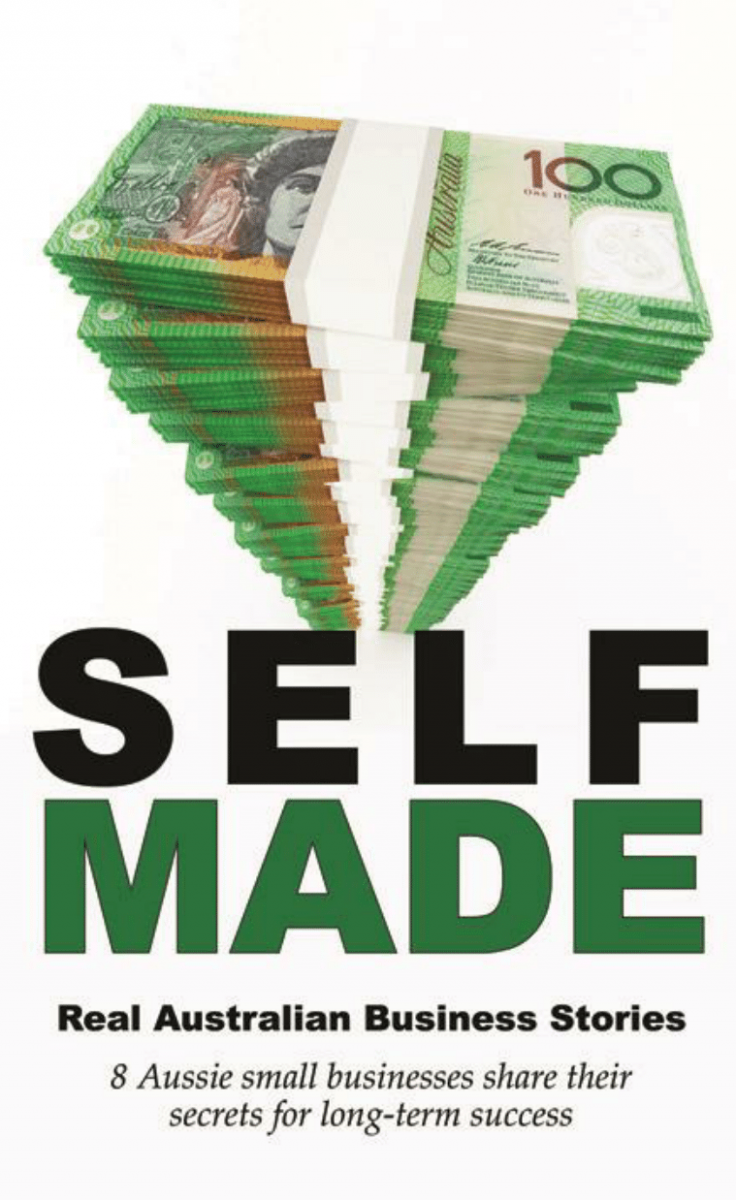 Self Made BOOK.

In Phil's second book, Self Made: Real Australian Business Stories, Phil teamed up with seven other Aussie business owners sharing their secrets for long-term success. This book is for anyone that has ever wanted to start their own business or are currently a business owner. The inspiring and motivational stories plus the tips on the dos and don'ts of being a successful business owner make it a must read.

5 Steps to Public Speaking Success BOOK.  As seen on TV and heard on Radio!
In his third book, 5 Steps to Speaking Success, Phil shares his insights and lessons from his 21-year journey as a speaker and workshop trainer. He also offers his five simple steps to take the time and pain out of preparing for any presentation to audiences of all sizes. In this book you will discover the secret to turning the fear of public speaking into fun.
5 Steps to Public Speaking Success ON-LINE TRAINING VIDEO.
The next best thing to being at one of Phil's live events is to watch one of Phil's live seminars.
This 30 minute on-line training video has been carefully edited to provide maximum value.
Phil takes you through his famous 5 Steps to Speaking Success in a very interactive and fun way as you both learn these very powerful skills as well as watching Phil implement them with a live audience.

5 Steps to Public Speaking Success BOOK & ON-LINE TRAINING VIDEO bundle.
Purchase the book and on-line training video as a bundle and save.

The Reader's Edge software program.

Speed Reading and Memory Program.
After using this product for just two weeks my reading speed went from 190 WPM to 330 WPM.
Plus I could remember audience members names after hearing them only once, something I could never do before using this program.

This week's message comes from p.178 of my book, "How to Get Out of The RUT Race". Stage 4: Breakthru the Breakdown Zone.



If everything has to go exactly the way you want for you to be happy you are going to spend most of your life miserable.
Have a great week!
"Phil Schibeci's book "How to Get Out Of The Rut Race" is simply fabulous. I only wish I read it when I was 25 years old. The insightful strategy of how Phil developed a plan to follow his dream and took massive action and now seeing him in full swing is truly inspirational. I especially related to the phrase breakdowns will eventually lead to breakthroughs. I read this when I needed the encouragement to keep going and that's exactly what happened the breakthrough came. It's definitely a book I'll refer to for years to come."
 Pat Patterson, Marketing Director at Pattersons Pest Control.
Out of his experience and learning Phil Schibeci created The RUT Race to help others get out of a rut and take a bigger bite out of life. The RUT Race includes a book, workshops and one to one coaching, with other products in the pipeline.
Phil's courage to get to where he is today has made him an inspirational leader. In his new book Phil helps people discover what they really want in life and how to create a powerful purpose so they can live each day with passion and achieve their full potential. He will show you how to overcome your fears, and will challenge you to take massive action on your big ideas and dreams.
The RUT Race is a state of mind, which we can slip in and out of at any time. The trick is to recognise when you are in it and know how to get out.
Phil was stuck in The RUT Race for a long time and found a way out. He has written this book with the intention for it to be an inspiration, motivation and a guide to anyone who wants to radically transform their life from one that they don't like to one that they love. In How to get out of The Rut Race Phil has put together some innovative, powerful and yet simple ideas that anyone can use to get out of a rut. Using these concepts, people can discover what they want in life and how they can quickly and responsibly create and start living a life they truly love.
Discover why most people don't achieve their business and personal goals and dreams. Find out how to achieve all your goals using the Five Stage Guide to Success. Phil Schibeci shows the reader how to take control of their lives, reconnect with their passion and create the life of their dreams. Read this book if you are ready to finally take charge of your life and start living it the way you've always dreamed of.


More praise for "How to Get Out Of The Rut Race":
"What a wonderful and insightful book filled with tips, strategies and tools to get you out of a rut. I enjoyed being taken on a journey of the author's experiences and how he managed to overcome living an unsatisfactory life himself and turn it into a passion for serving others. You are sure to pick up a few light bulb moments along the way and implement them in your life immediately. A great read!"
– Natasa Denman, Founder of Ultimate Weight Loss and Ultimate Business Edge.
"The RUT Race is a very easy to read book, jam packed with great ideas, tips and tricks to get you going and out of the rut race. Phil's humour and personal insights make this an enjoyable read. Recommended for those who need a kick start to make the changes they desire." 
– Kerrie Canning, Coach, Facilitator, Trainer, Partner at HR Advice OnLine and Founder of Canning Consultants.
"I really found the book inspiring, and I believe it will be a great resource for me."
– Anthony Green, RCPA Quality Assurance Programs.
"A great read. I started setting myself some goals after just reading Part One."
– Robbie Ferraro, Sales & Account Manager CorpEdge Marketing.
"A must read!"
– Nathan Vincent, Director at Infinity Creative Group.